Just in time for holidays and stay-cations, we have three books of local history to enjoy. A.J. Schenkman and Elizabeth (Libby) Werlau bring you Ulster County ripped from the headlines. Okay, so most of the crimes were a while ago. Regardless, human nature is not a pretty picture as painted in Murder & Mayhem in Ulster County, but it is all true. Schenkman previously brought us Wicked Ulster, another romp through Ulster's underbelly. Before you sense an MO here, their other book, also just out, is A History of the Wallkill Central Schools. Libby's previous books include the Arcadia Images of America Series, Plattekill, and Hallowed Grounds, with co-author Shirley Anson. Schenkman authored the story on Marion Bordon for About Town in this issue.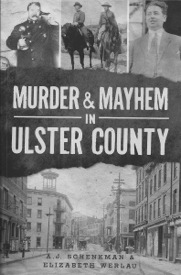 According to a promo for the Murder and Mayhem book, "In 1870, the New York Herald proclaimed that Ulster County was New York's "Ulcer County" due to its lawlessness and crime. The columnist supported his claim by citing that in only six months, 'it has been the scene of no less than four cold blooded and brutal murders, six suicides and four elopements.' Hannah Markle–the bane of the Woman's Christian Temperance Union–ran a Kingston saloon where murder and violence were served alongside the whiskey. Discover the mayhem and murder that these and others wreaked on one of New York State's original counties."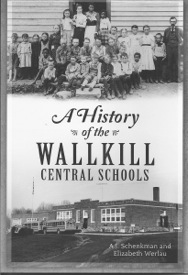 A History of the Wallkill Central Schools tells us that when the Borden family arrived in Ulster County in the 19th century, educational opportunities in the county were limited primarily to one-room schools; classes rarely extended beyond the eighth grade. This changed when the philanthropic Bordens established their Borden Condensed Milk Company and gave Wallkill the means to construct one of the area's first high schools. In 1938, Central School District No. 1 – incorporating schools in the towns of Shawangunk, Plattekill, Gardiner, Marlborough, Newburgh and Montgomery – was formed after residents voted to consolidate the John G. Borden High School with the surrounding one and two-room school districts. Local educators A.J. Schenkman and Elizabeth Werlau explore the Wallkill Central School District's seventy-five years of educational excellence in this new release from History Press. It was in researching this book they discovered the rich vein to be bled for crime and passion in Ulster County and came up with Murder and Mayhem.
Robi Josephson and Bob Larson have researched and brought us the unvarnished hardscrabble life of the Shawangunk Ridge with the perseverance and dedication matching the settlers themselves. The book is described by Glenn Hoagland, Executive Director of the Mohonk Preserve, "…as the definitive chronicle of the Trapps, and its vanished community."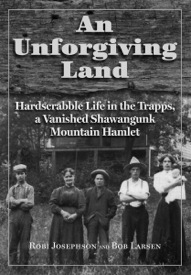 "This book…is a testament to the love and affection for detail that both Larsen and Josephson bring to the history of this remarkable mountain hamlet and the Shawangunk Ridge, and it is a testament to the generations of settlers who lived and worked in this stark and beautiful landscape until the last of them died over fifty years ago." Bob Anderberg of Open Space Institute.
Bob Larson retired after serving as second ranger at Mohonk Preserve since 1974.He designed and installed many trails at the preserve and probably knows more about the area than anyone else. Robi Josephson previously wrote the Arcadia book on the Mohonk Mountain House and Preserve. Robi earned her bachelor's and master's degrees in English from SUNY New Paltz, writing her master's thesis on John Burroughs in and around the Shawangunks.