The first AboutTown guide was founded three decades ago in New Paltz, Ulster County, as a practical guide for residents and visitors who wished to know more about the area and its communities. In 1987, The Guide expanded its geographic coverage to the Southern Ulster County towns from the Hudson River to the Shawangunk Ridge and from south of Kingston to Milton/Marlboro and Gardiner and The Guide became About Town. In 1988, Vivian Wadlin became the sole publisher and owner. Lisa Gutkin joined her in 2007.
In 1997, a sister publication was founded by Gail Jaffe-Bennek and Paul De Angelis in Northern Dutchess and Columbia Counties, covering the villages and towns of the Rhinebeck-Red Hook-Hudson-Tivoli-Germantown area. The two publications' combined website was started in fall of 2001.
AboutTown's mission is to increase communication across the mid-Hudson region and strengthen our common need for rootedness, community, and a "sense of place." On the local level we help foster community participation and the growth of small businesses.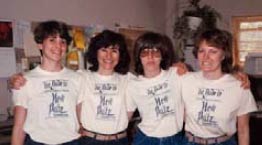 Articles in AboutTown offer informative local perspectives on the past and present, and a guide to savoring the richness of the towns and villages we live in and the people who populate them. Information is our stock in trade. The calendar of events and ongoing activities offers a comprehensive listing of performances, entertainment, recreation, clubs, activities, classes and lectures available in the community. The listings by our advertising supporters are meant to inspire you to shop wisely and — when at all possible — locally.
The single best benefit from advertising in About Town happened to a local plumber. A long-lost girlfriend saw his business ad in About Town and called to say hello. They began dating again, married, and have a wonderful daughter who has now graduated from college.
---

Vivian Yess Wadlin — owner/publisher, advertising director, designer, AboutTown southern Ulster. Vivian was born and raised in New Paltz. She has a bachelor's degree in Economics from Marist College and has owned and managed an advertising and marketing firm in New Paltz for more than three decades. She hates to cook, loves to read. 845-691-2089 or viv@abouttown.us