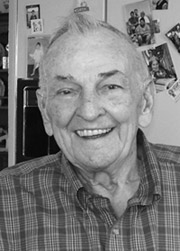 Several years ago Sam Quimby asked the owners of the Ship Lantern Inn for permission to place a historical marker on their property along Old Indian Road in Marlboro to indicate the road's use by native Americans. Sam then proposed underwriting and installing the marker to the Marlborough Historical Society.
After Sam passed away in 2011, the Historical Society took action. Sam had been a major force in keeping the Historical Society active and viable.
Jerry Staropli, of Starpoli Signs in Milton, produced the marker and it was installed and dedicated in August. It's a fitting and well-deserved tribute to our friend Sam.