An About Town reader in Chicago sent me a magazine article about postcard collecting. Since I am of (mostly) Austrian ancestry, it was interesting to note that postcards were invented in the Austro-Hungarian empire around the time of our Civil War, (probably more correctly called the War of Secession?). The article went on to say that by 1903 more than a billion cards were sent "just in Germany."
It is not easy to date postcards because the post marks could have happened anytime after a card was first printed. Cards published prior to 1905 did not have divided backs. That was for address only, and the message was on the same side as the picture or illustration. Postcards were the email of the era. They did everything from just informing someone the sender made it home with or without incident, that the pen would be on the 2:15 trolley from Highland to New Paltz, that new merchandise was available for sale, or that Aunt Millie had survived the illness of the moment. Postcards were used to flirt, sometimes outrageously, most times subtly. Most were some other form of "advertising."
Some messages are hilarious. Some are clever. Some very somber. Most are not very interesting, but "one man's trash," is usually my treasure.
Cards were so popular that an entire industry sprung up in the United States fanning out over the land taking photos of people, places, and things. Individual homes and children in their finery were particular favorites in the era when few people owned cameras. Many cards in my collection say, "This is our house," or "this is Dotty at age 6."
The cards included in this article on Stone Ridge are a small sample of the variety of card purposes of the suppliers and the senders.
Given Germany's fascination with the postcard and their excellent printing processes, many US cards were printed in Germany. Drug stores in most small towns, including New Paltz and Highland, had their names and "printed in Germany" on cards they sold.
Addresses on early cards were sometimes just a person's name and a town or county.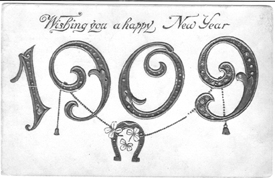 This gold embossed New Year greeting was sent December 28, 1908 between two NJ towns. "Made in Germany," it has information in German, Polish, and Russian (Cyrillic letters, named for St. Cyril in the 9th/10th C.) stating it is a "Post Card, Postkarte, Correspondenzkart, Dopisnice," and two other languages for which this keyboard is lacking. The international popularity of postcards, the variety of purposes, and the sentiments they carried, all make them worth collecting.

This postmark is from the reverse of the Sally Tock post card. It is dated September 30th, 1915. Even the backs of cards are fascinating for the art that was applied. The small round logo appears to be C & B co.