Ridgley Manor was built for Francis A. Leggette. The grounds were designed by Frederick Olmstead. Postcards like this were used by summer boarders living in assorted outbuildings. Their rents contributed to keeping the estate's expenses in line. Two cards in my collection are from 1908 and 1909 and indicate senders stayed there, probably in the aforementioned outbuildings.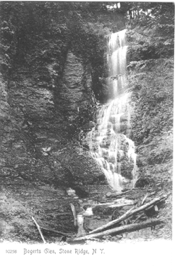 Waterfall pictured here is Bogerts Glenn, which according to Images of America: Marbletown, by Lucy Van Sickle, is located off Mill Dam Road in Stone Ridge behind a stone house owned by the Bogerts. (Not sure if the house is still owned by them, nor if you can see the falls from the road).
The "Dutch Porch, Sally Tock's Inn, Stone Ridge, N.Y." was one of the largest building of its era and remains so today. Next year, About Town is doing a separate story on its amazing history. The building is on Main Street in Stone Ridge, but you would never guess its true size from the street view (hint: 7,000 square feet).
Marbletown with its historic photos and postcards is a terrific book for ferreting out information on High Falls, Marbletown, Cottekill, Stone Ridge, Vly-Atwood, Kripplebush, and Lomontville.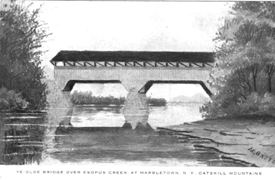 The covered bridge drawing, later turned into a postcard, was done by Minnie Basten Squires. Again from Marbletown, writing of the postcard image they used, courtesy of Eric Fedde, said it was sent by the artist herself. Her message read, "I wish I could go back to the time I sketched this old bridge on my uncle's farm. I think it is the only picture of it."
The remaining covered bridge in our area is Perrine's on Route 213 just off Route 32. Perrines is in excellent condition and begs you to walk over the Wallkill River on its sturdy Burr Arch construction.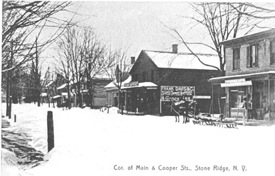 Snow in the street made it easier for horse-drawn sleds to carry people and products throughout Ulster. Covered bridges, like Perrine's in Esopus, had a person who would spread the snow inside the covered bridge for the same purpose.
The image of "Traction Engine of the New York City Waterworks" appears also in the Van Sicle book, with the following "To provide the residents of New York City, the New York City Water Works built an underground aqueduct from the Ashokan Reservoir to reservoirs near Manhattan." The image in her book is courtesy of George K. Van Sickle. However, all images in this About Town article are from my collection.
All of the books from the Images of America series on local towns make highly appreciated gifts for all occasions. Often they are available from your local Historical Society, Town Historian's office, the authors, and of course, bookstores, large and small.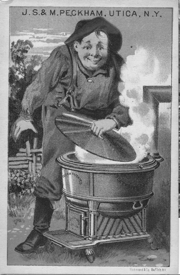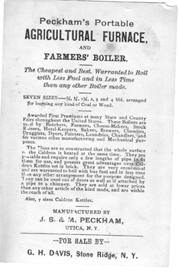 Note on the card the Frank Davis store selling stoves, tinware, hardware, and groceries. The Utica Stove card may have been for this store as the same last name is on the text side.