Iva Lawrence's mind is as tidy and organized as the lovely home she and her late husband, Vincent, built. About to celebrate her 97th birthday, Iva speaks with authority about her wonderful neighbors and family. Many regularly drop by to chat or to inquire about this or that—local history, local news—how to make something, or just discuss the weather. But sometimes, as with Hurricane Irene (August 2011), they are there to ensure her safety.
"The stream (Peterskill) was expected to flood, so they told us to evacuate. We'd just crossed the bridge and turned to watch it wash into the field," Iva recalls the adventure with a broad smile. "You can still see part of it out there," she indicates with a toss of her head. "Out there" is a rolling field across the dead end road on which she lives.
I am immediately reminded of the study done in the mid 1990s and written up in American Demographics magazine titled "Strong Home Towns." The authors looked at all 3,600 plus counties in the US and identified that quality we might call "civic connectedness." It's made up of all the roots and connections we have where we live and why so many of us stay rooted to the place. Out of the 3600 plus, Ulster County was ranked number three.
Accord is hard to describe. It's hamlet is just off 209 at a curve and hidden on the far side of a small bridge. Hidden not because anything really blocks your view, but because the curve and the stoplight demand your attention. Accord was once a bustling place drawing miners, vacationers, berry pickers, farmers, hunters, hikers, and shoppers. Located in the Town of Rochester, Accord is another of those unincorporated villages without a governing body. Its residents, all 590 or so, elect government at the Town level. But, Accord does have it's own post office and zip code. Accord got its first postal service in 1826, and its first rural carrier (by horse) in 1913.
When asked about changes to the Accord area Iva has seen since she moved there in the early 1930s, she said the biggest change was the loss of summer tourism. She assessed it, "I guess young people could afford to go more interesting places." Another change the loss of summer tourism brought was the closing of part of her road to save money by the town. "The people voted to close the road, it wasn't used enough," Iva explained, "now it's a dead end."
In a 1950's publication, Enjoying the Catskills, there is reference to the fact that at the time Accord had its own airport. The book also lists airports in New Paltz and Esopus, among others scattered farther afield. In fact, most were fields with a windsock and a shack.
I met Iva when my friend Lisa Sterrer suggested I might want to interview her. Lisa, who is Iva's neighbor, accompanied me to the visit with Iva and added to our conversation. Lisa owns the Big Cheese Shop in Rosendale. She added that tourism is coming back, and people once again are seeking out and appreciating the serene beauty here. I have to agree with Lisa, especially as we sit in Iva's home gazing out onto the fields, rock formations, mature trees, and creek. I am reminded of a John Burroughs' quote that is emblazoned on a sign on the path to his cabin-study Slabsides, "nature close at hand…"
Iva was born Iva Dunham and raised in West Field, Pennsylvania. Her father worked in the tanning industry there. When Iva was five her mother died in childbirth. Eventually, Iva's father remarried a woman who had taught school in the Town of Rochester, and she wanted to return there. The family moved to Accord where Iva's father worked for John Schoonmaker on his farm. The family did not stay in Accord very long —actually, long enough for Vincent Lawrence to take an interest in Iva Dunham. When the Dunham family moved away, Vincent drove his "Model A Ford green convertible with a tan top" to Pennsylvania to ask if Iva could join his family for the Thanksgiving of 1938. After that visit, he drove one more time to Pennsylvania to ask Iva's father for permission to marry her. Vincent Lawrence's father and uncles had been in the millstone business. They mined the stone in the summer and dressed it in winter. "Shawangunk grit" conglomerate stones (also known as Esopus millstones) were shipped all over the world—according to the recently published book, An Unforgiving Land, two large millstones from the area were shipped to Germany in 1902. Stones were purchased in pairs and were grooved for specific uses. Although we usually think of milling grains, it was gypsum and other industrial materials such as paints that often claimed the lion's share of millstone pairs. Cutting and "dressing" the stone for milling or for building was done by skilled craftsmen like the Lawrences.
In Charles Hockensmith's book on international quarries, The Millstone Industry, are several pages devoted to the Shawangunk area businesses. Vincent and his brother, Wally, and the Lawrence family are mentioned several times. One particularly interesting section deals with the Accord train station and the special spur that was cut so the on-loading of the weighty stones could be accomplished from wagon to train car without lifting the load vertically.
In addition to millstones, other stone-cutting businesses thrived during the construction of the mountain houses at Minnewaska and Mohonk, and other large building projects. The unique stone is easily visible on the bank building on the southeast corner of Plattekill Avenue and Main Street in New Paltz.
Iva tells us Vincent and his brother, Wally were "stuck together." Wally, a bachelor, ate dinner with Iva and Vincent every night and lived across the field in the family's original farm house. Lisa added the brothers were simply inseparable—"…you saw Wally, you saw Vincent." They worked together, they ate together, and they traveled to town together. At 84, Wally died of a heart attack. One year later Vincent succumbed to a brain aneurysm.
I asked Iva what was the worst thing she could recall (other than war) on the international scene. She said stories about the Titanic came to mind. Since that was 1912, and she was born in 1917, the ongoing blow to the national psyche of those who expected the march of technology to be smooth and one way, must have been enormous. It still fascinates us.
Iva brought up the changes that electricity brought when it came to Accord in the 1930s. Her mother-in-law was fascinated with the concept of an "ice box"—with no ice. There had been a place dug into their cellar wall that was used to keep things cool, and of course real ice boxes, but a refrigerator was a true technological breakthrough for the average homemaker—not to mention the purveyors of fresh foods and ice cream.
Iva knew a lot about the food business. For over thirty years she worked in Carl's Market, now Rondout Grocery. For the most part, she liked her work and the people she worked with or encountered. In the June 2011 issue of The Accordian, the front page story is "Carl's Market II". On page two is the following quote by Elinore Carl Churchill who wrote the story, "I can't speak highly enough of Iva (Lawrence). She was so good to everyone, and is still like one of our family. We love her."
However, her least favorite time was during hunting season when the deer would be brought in for butchering. Vincent hunted, as did most men in those days.
Iva and Vincent had one daughter, Barbara, who works for "a foundation in New Jersey." Iva is very proud to have such a well-educated and successful daughter. Iva has one grandson, and like all of those of us with grandchildren, says she wishes she saw him more often.
Westerns were and are Iva's favorite movies. We agreed that the old westerns were far better than the "modern" ones. Early westerns presented real heroes who had values and lived by them, and now, not so much.
I asked about the Accord Speedway, a subject that just about caused a "range war" in the mid 1990s. The racetrack had closed down for a while and was about to reopen when the more recent emigres brought all sorts of complaints and suits to stop it. It became the usual new-comers against the old-timers and put Accord in the regional spotlight.
Iva said Vincent and Wally went to the races (this was before it closed). We discussed how many men who lived off the land or mined, got caught up in auto racing in the 1930s-1960s. There were many tracks in our area, everything from horse racing in New Paltz, to auto racing in Woodstock and Accord.
I thought it proper to inquire as to advice Iva might give those of us fast approaching true seniority (define it as you will). She said without a moment's hesitation, as though she had been just waiting for someone to ask, "Throw away your cigarettes, liquor, and guns." Then she added, "Eat your vegetables." Accord has its sage.
---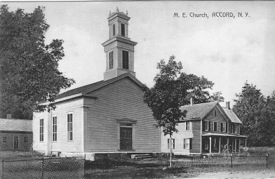 The Methodist Episcopal Church in Accord. Much civic life centered on houses of worship. Almost every church had a postcard image for parishioners to send out. The images were also used in paperweights, on dishes, and pins. This card was published by the Kingston Souvenier Co, and printed in Germany. Although not post- marked, we can say it is pre WWII because the swastika is on its message side from before the era of Hitler's rise and the condemnation of that symbol. And we know it is after 1906 because the back is divided into message and address.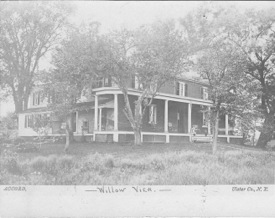 Willow View is another of the many tourist homes that dotted the countryside in Accord and throughout Ulster County. Usually family run affairs that provided the city dwellers with good home cooking, the latest in civil amenities (sometimes), cooler country air, and when the various fevers struck the crowded boroughs to the south, these "guest houses" offered the chance of escape. Many boasted "healthy" waters from natural springs. Sitting on the porch and catching up with family and friends was one of the main social gathering. If a guest house was lucky enough to be on a trolley line, all the better for proprietor's and guests' pocketbooks. Travel to your getaway was a big part of the expense of vacations before automobiles. Real photo card, circa 1904.